Posted by Cody Schlemmer on Jan 25th 2023
Picking the right paintball hopper can mean all the difference on the field, but with a huge selection of hoppers out there to choose from, how are you supposed to decide which one is truly the best? We've done extensive research into the top 5 paintball hoppers of 2023 and want to share our findings with you so that you can make an informed decision when it comes time to upgrade your equipment. Read our blog post today as we explore each option in detail and break down what makes them stand out above the rest!
#1) Virtue Spire V
The Spire V is the culmination of over ten years of continuous development by the best selling high-end loader brand in paintball. Never before in the history of the sport has a loader dominated for so long. Fast, jam-proof performance is not only even easier to use, but also more responsive, reliable, and robust than ever.
Dual Sensor Technology: The Spire V electronics merge two reliable high performance platforms: Accelerometer technology is augmented with 3-Infrared Sensors to seamlessly control the activation and stopping power of the jam-proof Spire drive system. Dual sensing technology allows for precise shot detection and ball detection throughout the entire feeding cycle, ensuring the fastest responding loader both in the lab and on-field conditions.
Easy Electronics: Just turn it on and go. No programming or debug settings will ever be needed thanks to use of multiple sensors backed by over ten years of paintball loader software evolution.
Upgraded Dual Shell Lock: Don't let looks fool you, the Spire V features a redesigned shell and locking system that is more robust than ever. Slide, dive, or core-sample like the worst of them and your Spire V will stay locked.
Soft on Paint & Jam Proof Design: Designed to feed everything; from dimpled, misshapen paintballs to the most fragile paint your marker can shoot. Flexible rubber fingers gently feed brittle paint and clear any potential jams before your marker ever skips a beat.
Toolless Hinged Shells: Changing batteries or cleaning the Spire V is easier than ever and the new locking system keeps it securely closed, while providing one-handed access to the entire inside of the loader.
Toolless Spire Drive & Tray: The magnetic Spire drive features soft rubber fingers which are easily removable for cleaning or service. The ball tray can also be disassembled without tools for fast cleaning to keep your Spire V in top condition after a hard day's play.
Included CrownSF II Speed Feed: Each Spire V comes with a color-matched high performance CrownSF II Speed Feed with removable spring fingers which locks into place for every dive or breakout. Rain lid included too!
Lightweight Durable Design: The Spire V is constructed with durable glass-filled nylon to hold up to virtually any level of abuse.
Superior Support: Virtue was founded in 2005 and since that day has backed up its products and players with world-class support and service that few if any companies can match.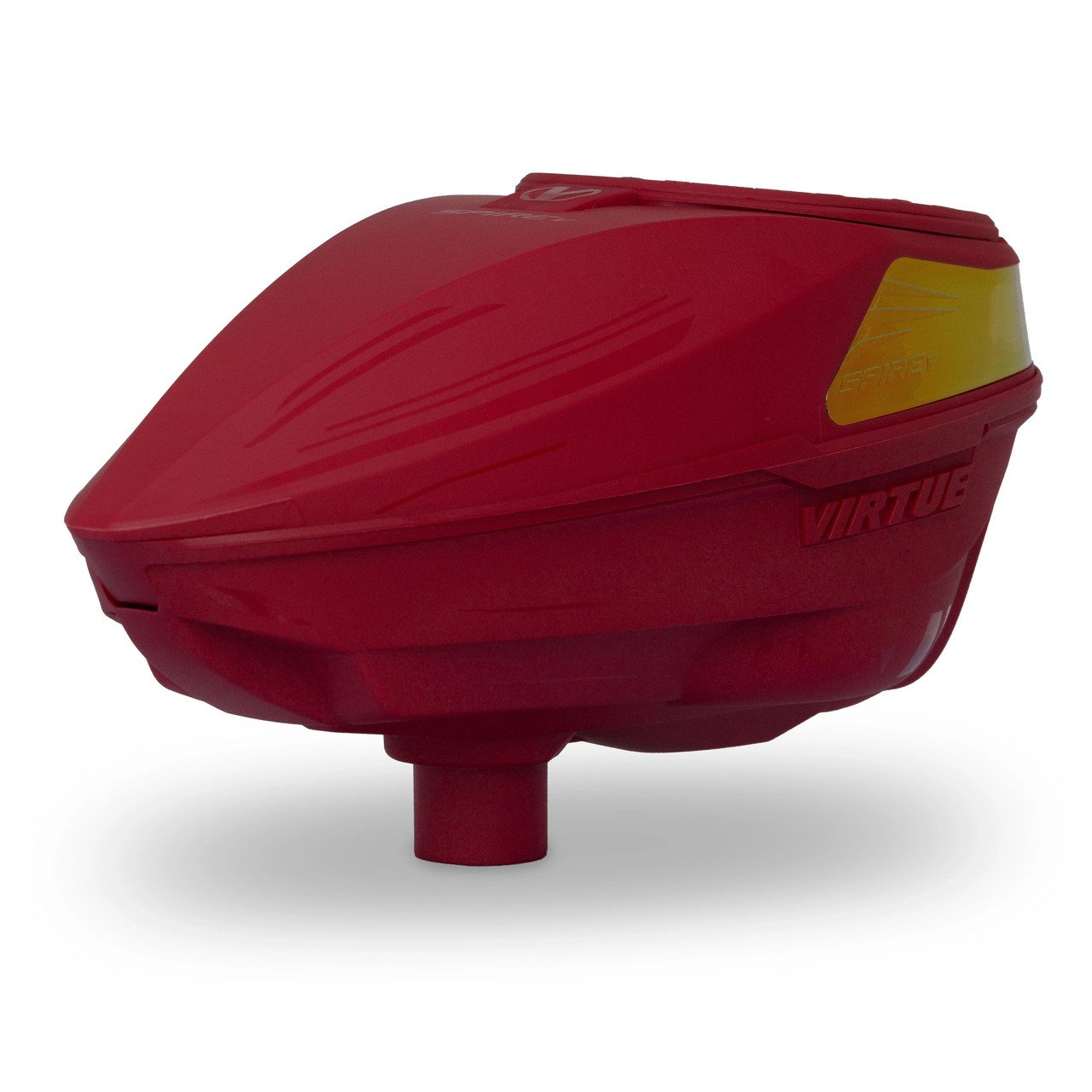 #2) Virtue Spire IV
Everything you love about the Spire III with upgraded performance and improved reliability.
New Proactive feeding logic that works more reliably. Virtue iFI wireless integration with compatible markers. Upgraded cosmetics. Toolless electronics for easy N-Charge battery pack installation.
- Re-Designed Cosmetics
- Spire IV Proactive Logic (Starts Feeding the instant first shot is fired
- Includes Electronics to Allow for the Virtue N-Charge (sold separate)
- Spire IV iFI Wireless Technology (Integrate hopper with Virtue ACE - Other Virtue Aftermarket Boards Soon)
- Reload Indicator with H.U. LEDs + Alarm
- Apple and Android Programmable Phone Apps
- Soft on Brittle Paint
- Fast, Consistent Feeding
- Easy Tool-less Disassembly
- Requires 3 AA Batteries (not included)
- 220 Round Capacity
- More Reliable and Durable than previous Spire models
- About 2.5mm smaller than Spire 200
- Spire IV Proactive Logic
The Spire IV features all new proactive feeding logic. Unlike previous Spire models, which required constant sensor readings from every shot (with the potential for adding in extra unnecessary spins while shooting, and could potentially result in slow rates of fire from a sensor malfunction), the Spire IV features the new Proactive Logic. Now your Spire IV starts feeding the instant the first shot is fired, and continues to feed automatically, without relying on continuous sensor readings until the stack is full. This is the same proven technology incorporated into the CTRL loader, which works more consistently and reliably on every type of marker.
Spire IV iFI Wireless Technology
The Spire IV has been upgraded to work with the Virtue Ace wireless iFI platform. This new feeding technology allows for a tight integration between the loader and the gun and also maintains backwards compatibility on guns without iFI technology using the new Proactive Feeding logic pioneered on the CTRL loader.
When the Spire IV is paired with the Virtue Ace or iFI compatible boards, the loader maintains instant communication with the marker's eyes which allows for significant improvements as both the gun and the loader are now synced together for faster and more consistent feeding, stopping and idle performance. And if the gun's eyes are turned off, dirty or if the Spire IV is used on a different gun, the Spire IV automatically transitions to the new proactive feeding mode, which will automatically feed with every shot until the stack is full.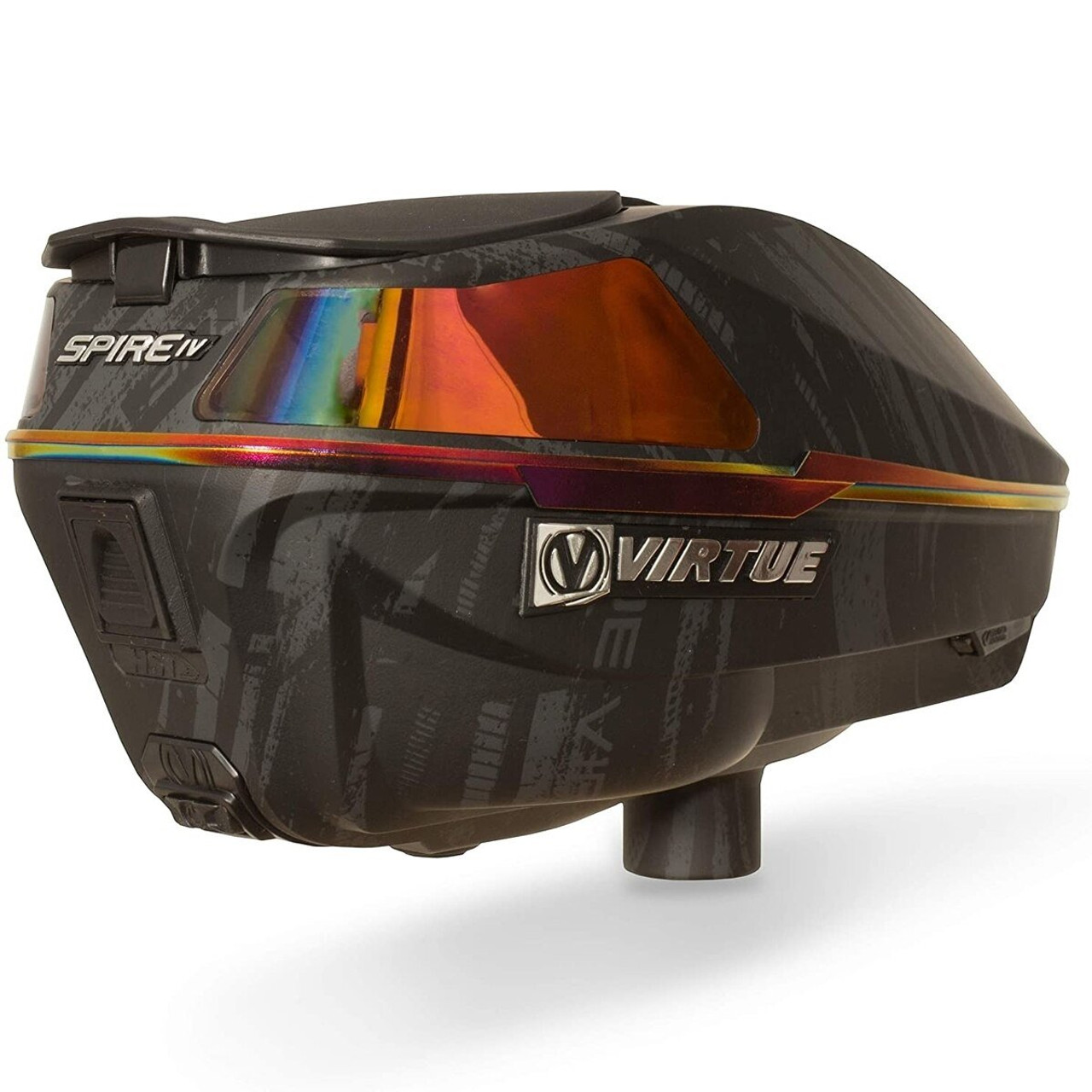 #3) Dye R2 Hopper
INTRODUCING THE NEXT EVOLUTION IN LOADER TECHNOLOGY
The new patent pending DYE Rotor R2™ follows in the tradition of the most radical innovation in paintball loader technology. The R2™ fuses simplicity with mind-blowing feed rates, reliability and the industries first capacity flexibility. Through both professional player input and customer feedback, our engineering team meticulously reconfigured and reengineered the R2™, to pioneer the next advancement in loader technology. The Rotor R2™ includes a revolutionary patent pending highly innovative multi-capacity shell that allows the user to choose between 200 or 260 round capacity on the fly, without the need for additional shells, parts or tools. The Rapid Release patent pending lid is the fastest and most intuitive quick change lid system on the market, allowing for effortless changes between DYE Quickfeeds™ and Traditional polycarbonate lids. The R2's large mouth design opening, is 15% larger than its predecessor and ensures that your loading procedure is quick, efficient and effortless. The R2's new circuit board logic, provides an industry's first patent pending Reload Alert System. In addition the new patent pending electronic Dynamic Force Control, insures that your R2 energy drive, spools up to provide initial consistent power regulated feeding, while also providing a gentle power control on paint when needed. Trusted quality and proven consistency have made the DYE Rotor platform the number one choice in loader technology among paintball players worldwide. The Rotor R2™ was created to make the next advancement in loader system technology, providing the competitive player, loader performance that needed to win. The new DYE R2™ is THE CHOICE OF CHAMPIONS™
FEATURES:
ADJUSTABLE BALL CAPACITY (200/260 PAINTBALLS)
15% LARGER LID OPENING AND RAPID RELEASE SAFEGUARD SYSTEM
RELOAD ALERT SYSTEM
LOW BATTERY INDICATOR
DYNAMIC FORCE CONTROL
TOOL-LESS DISASSEMBLY
SPRING LOADED INNER FLOOR
IMPROVE FEED RELIABILITY
ADJUSTABLE DRIVE TENSION
POSITIVE FEED LIVE HINGE TRAY
POWER SUPPLY - 3AA BATTERIES
WEIGHT 1.1 LBS (WITHOUT BATTERIES)
PATENTED ROTOR FEED TECHNOLOGY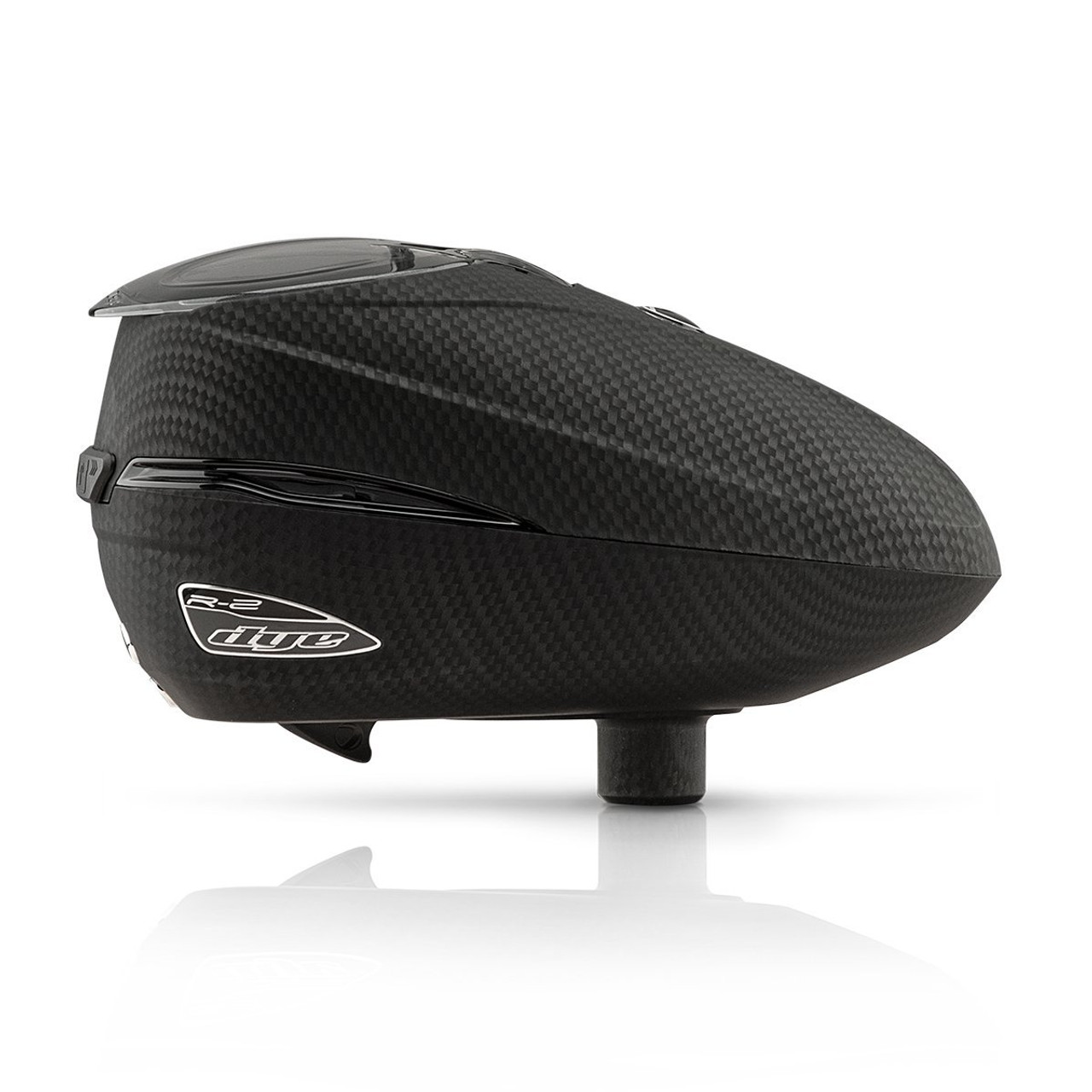 #4) Dye LTR
Introducing the LT-R, the latest addition to DYE's family of innovative loaders. LT-R was created to provide every style of player a loader that retains the quality performance that's needed to win at a price tag that's unmatched. The LT-R utilizes proven DYE loader technology that fuses top-notch functionality with mind-blowing feed rates and reliability. Trusted quality and proven consistency have made the DYE Rotor platform the number one choice in loader technology among paintball players worldwide. Patented Rotor technology provides smooth, consistent, and rapid feeding. This is made possible by the combination of the LT-R's constant feed carousel and the opposing rotation of the Rotor center arm.
The LT-R features a simple tool-less design with a low profile shell that allows for a 200 ball capacity. The patented spring loaded floor tray makes sure that paint ends up in your gun. Adjustable feed tension and a built-in anti-jam release trigger makes sure your patented constant feed hopper can handle any paint and condition. The interchangeable carrier/spring lid allows for a quick and easy change between lid and optional DYE Quick Feeds. LT-R sets standard for battery efficiency, powered by only 3 AA batteries allowing the hopper to get 80,000+ balls shot count. The LT-R has a variety of upgrades such as color kits, quick feeds and high capacity tops.
LT-R FEATURES:
Capacity: 200
Batteries: 3 AA
Weight: 1.05lb
Width: 4.25"
Length: 8.5"
Height: 5.5"
Unparalleled feed rate
Anti-Jam Trigger
Quick Feed sold separately
Patented Rotor Force Fed Technology, 30+ balls per second.
Tool-less disassembly; completely break down the Rotor without any tools.
Shark fin Jam Release Trigger effortlessly gets you back in the action in the event of oversized or out-of-round paint.
Water-resistant coated board
Adjustable torque feature allows the user to fine-tune torque settings manually with an allen wrench.
Battery life of over 80,000+ ball shot count with only 3 AA batteries.
Black ops feature enables you to turn the indicator LED off during those night or lowlight games.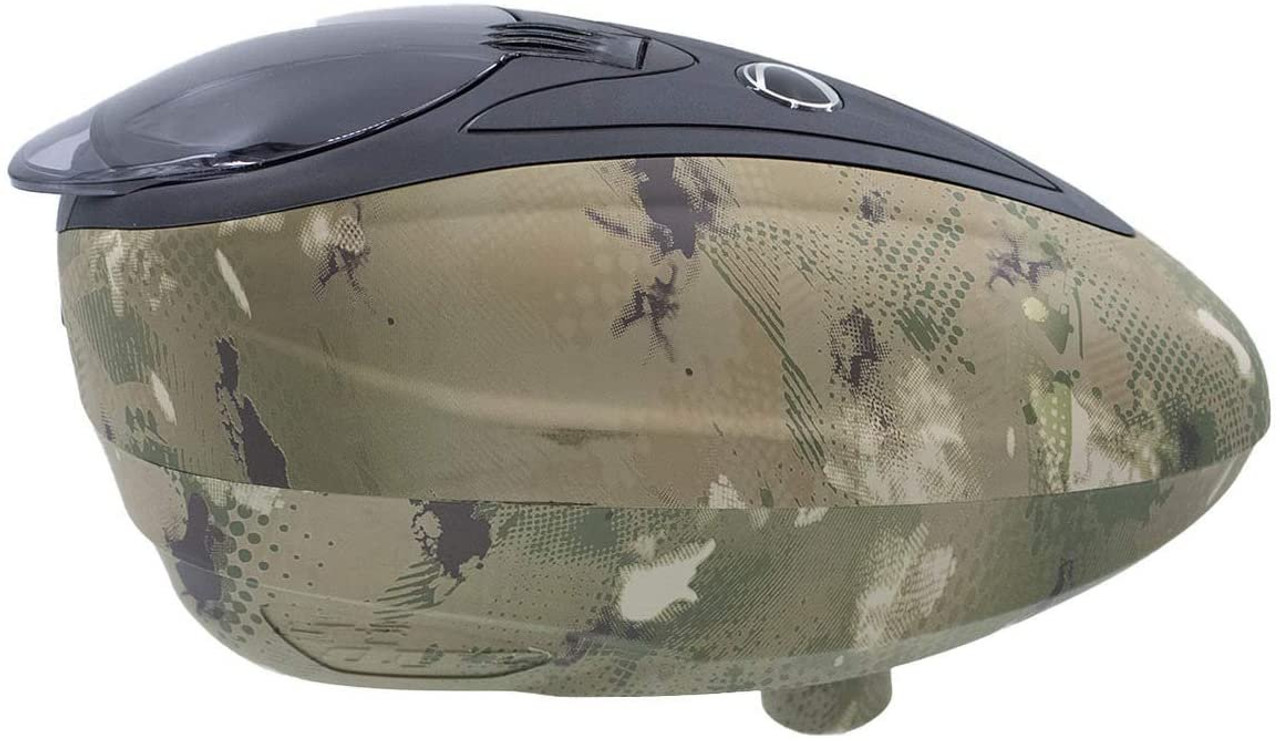 #5) Virtue Spire iR2
Since it's inception, the Spire has dominated the loader scene all around the world. With the Spire IR², we've made paintball's best value to performance loader even more durable and reliable.
Third generation flexible Spire drive is soft on paint, geometrically optimized with a 9-ball raceway to feed at high rates of fire without ever jamming.
Upgraded interlocking shell design holds together on tough dives.
Featuring a toolless lid for a quick change speed feed. 2-piece toolless shell for easy disassembly, cleaning, and battery changing.
Upgraded toolless and more durable dual material Spire drive allows for easy cleaning of the ball raceway.
9-Ball Raceway Never Pulses Never Jams
The 9-ball raceway and 5-finger Spire IR² drive allows the Spire to feed faster and more consistently while still being able to feed the worst paintballs imaginable without jamming. Improved sensors remove unnecessary pulsing and create a quieter, more efficient loader.
Intelligent Proactive 3-Eye Feeding
3-eye feeding technology continuously monitors the paint in your loader with 3 shielded infrared eyes. Two eyes monitor the ball stack, while one eye tracks the gap in between the stack across the entire feeding cycle, ensuring your marker never misses a beat.
Softer On Paint
The third generation Spire drive is constructed from a combination of nylon and flexible rubber to feed the most fragile paint on the market. The new upgraded Spire IR² drive is lighter, less bulky, and most importantly, more durable and reliable.
Durable Nylon Toolless Shells
With secure construction and durability in mind, the Spire IR² features a durable nylon top and bottom shell that interlocks reliably every time.
Better Battery Life
The most battery efficient Spire yet, thanks to its proactive IR² feeding logic and optimized electronics. Combine the Spire IR with the Virtue N-Charge battery pack to get even better performance, reliability, and ease of use.
Quick Change Lid & Speedfeed
Upgrade with the Spire III/IV CrownSF II or Bunkerkings NTR speed feed in seconds. Not only can you swap back and forth from a lid to a speed feed, but you can now remove and clean each individual finger just as easily. Each spring finger offers the ultimate combination of feeding performance, paint retention, and sag-proof reliability.
N-Charge & Spring Ramp Upgradeable
Plug-n-play compatibility with the Virtue N-Charge rechargeable lithium ion battery The original Spire Spring Ramp is still compatible with the Spire IR², and will ramp those last few balls back into the feeding raceway when you shoot long strings at odd angles.